Becky Wilkinson helps some of Britain's best-loved TV chefs bring their dishes to our screens, as a home economist and stylist she has worked on some of the biggest cooking shows in the UK. With a passion for all things food Becky shares her skills with cookery demonstrations, recipe development, food writing  and  assists families' with their dining dilemmas, menu-planning across the week, party-planning or freezer-filling; her knowledge means she is brimming with brilliant ideas and solutions to get everyone cooking and eating wholesome food.
Becky grew up in the Kent countryside on her parent's Fish Farm. Becky's passion for educating and filling friends with food meant a career in the Nigerian Oil & Gas industry had to change, and she is now a Leith's trained chef and is currently studying for a certificate in Healthy Eating and Nutrition accredited by the AfN.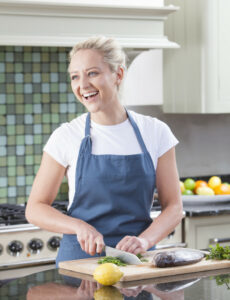 The family restaurant on the Fish Farm saw Becky spending many summer holidays catching fish and slowly learning the ropes of a professional kitchen, whilst also spending time at Rick Stein's Seafood Restaurant.  Simple and delicious food with fresh, good quality ingredients is Becky's mantra, combined with a passion for getting kids in the kitchen too.
Becky has appeared on the Channel 4 program 'Tried and Tasted – the Ultimate Shopping List', joining food experts including Michel Roux Jr, Jay Rayner and Giles Coren to blind taste test some of the nation's favourite dishes as well as the BBC's 'Eat Well For Less' where she encouraged the nation to become more comfortable with using fish at home.
Becky's enthusiasm, knowledge and passion, combined with her warm and sharing nature brings a fresh approach to proper wholesome cooking.
Brands Becky Has Worked With